Adult Advanced Beginner/ Intermediate
Teacher: Anke Cruse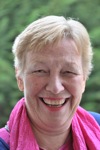 My name is Anke Cruse and I have been teaching the classes for adults at the German School since September 2001.  I am a native speaker of German, born in Hamburg where after high school I completed vocational school of law with a certificate as legal secretary.  Curiosity and a desire to learn took me to Switzerland, England and finally to the United States.
Here in San Francisco I found my new home and the opportunity to study.  I obtained an A.A. degree in Business and a Certificate of the Royal Society of Arts in TEFL/TESL (Teaching English as a Foreign/Second Language).  Later, while teaching in Japan I received my B.A. in Linguistics.  Today I look back to 25 years of teaching English and German (DfA – Deutsch für Ausländer) and think with pride of my students' success in Mexico, Japan, Germany and now the United States.  For me teaching has always been a joy and highly rewarding.  It's just great to help students' progress, and succeed.
I am proud to be a member of the academically oriented German School of San Francisco.  In my leisure time I continue to travel, read, hike, and enjoy movies, concerts, art, the opera and ballet.