Teacher: Barbara Steinkemper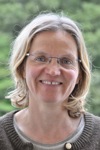 My name is Barbara Steinkemper and I have been working at the German School of San Francisco since 2001. I was born and raised in a small town near Bielefeld, which is in the  north-western part of the country. I studied social work and education at the University of Bielefeld before I moved to San Francisco where I completed my Master's Degree in Psychology.
During the week, I work as the kindergarten teacher at GISSV, the German International School in the Presidio.  I have two grown up children who used to attend the German Saturday School as well.
I enjoy working with the younger children and helping them foster a love of the German language.  In my free time, I enjoy biking, hiking, spending time with friends and family.