Recent News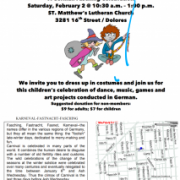 Dear parents and students, As part of our curriculum we will celebrate Fasching, a German Carnival Celebration this Saturday, February 2 from 10:30 am to 1 pm at ST. Matthew's Lutheran Church 3281 16th Street / Dolores All students...
Read more of this article
---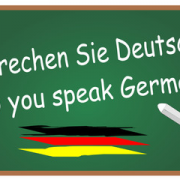 Due to popular demand, we added two more Adult classes to our curriculum. We now have: an Adult Beginner class (A1), running from 11:00 to 12:30 an Adult Advanced Beginner class (A1.2.), running from 9:30 to 11:00 an Adult Intermediate...
Read more of this article
---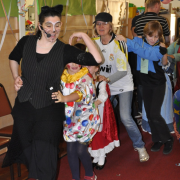 Come and celebrate Fasching! Fasching, Fastnacht, Fasnet, Karneval–the names differ in the various regions of Germany, but they all mean the same thing: the "foolish" late-winter days, dedicated to merry-making...
Read more of this article
---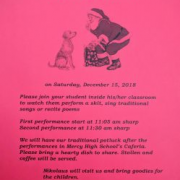 Join us on December 15, 2018 for our Adventsfeier. Parents will join students in their classroom for performances. Afterwards we will gather in the cafeteria for our annual potluck. Read More →
Read more of this article
---