The success of our school is largely reliant on parents being actively involved; therefore, we ask each family to provide two hours of volunteer work per school year. Volunteer opportunities include setting up, assisting our staff, or cleaning after our events. Volunteer opportunities are only open to parents of children enrolled in our school.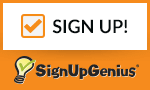 The sign up procedure is quick and easy, just follow these instructions:
1.  Click above to go to our invitation page on SignUpGenius
2. Review the activities listed and choose the one(s) you like.
3. Sign up! It's Easy — no account or password needed.
Note: SignUpGenius does not share your email address with anyone.