Manja Benadjaoud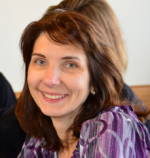 My name is Manja Benadjaoud and I have been serving as principal of the German School since July 2003. I was born and raised in Berlin. During my second year at the Freie Universität Berlin I received a scholarship and moved to France. I finished my studies in Lyon with a double MA in French Literature and in European Cultural Identities.
I spent the following 8 years in France, teaching German as a foreign language, first at the university, then at the high/middle school level. I eventually passed the very difficult French government exam (C.A.P.E.S) giving me tenure in the French public school system. In 1997, I took a break form teaching and started a Ph.D. in Comparative Literature at the University of Lyon. I really missed teaching during that time and went back to teach German at the high school level.
My husband and I moved to California in 2000. I obtained my California Teaching Credential in 2002 and have been teaching French, German and Yearbook in Pleasanton. Having two kids and working two jobs is not always easy but I feel honored to work with such dedicated people and to serve as principal of the German School.