Manja Benadjaoud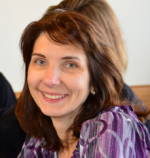 I have had the privilege of serving as principal of the German School since 2003. Born and raised in West Berlin, I attended the Freie Universität Berlin and later received a scholarship to complete my education in France. I graduated with a triple MA in French Literature, German Language Education, and European Cultural Identities.
I spent the following 8 years in France, teaching German at various levels. In 1997, I took a sabbatical from teaching and pursued a Ph.D. in Comparative Literature at the University of Lyon. During that time, I truly missed teaching and re-entered the classroom to teach German to young adults.
My husband and I moved to Pleasanton, California in 2001 where I obtained my teaching credentials and have been instructing subjects such as French, German, and Yearbook at the middle school/high school level.
I am honored to be engaged with such a dedicated team of faculty, staff, and board members who consistently prioritize our students. The German School of San Francisco is a truly unique community—one I am immensely thankful to be a part of.