Brigitte Stein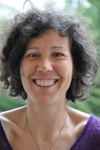 My name is Brigitte Stein. I was born and raised in a village near Frankfurt. I hold a secondary degree in business. My love for travel and language brought me to the USA where I have been a San Francisco resident since 1995. I have been a Massage Therapist since 1991 and also worked in a variety of settings involving children, e.g. day care centers, baby-sitting, and Live-in-Nanny. I am also the preferred "aunt" for my friends' children.
In September 2007, I joined the teaching staff of the GSSF to lead the Parent-Child group which I enjoy very much. This prompted me to further my education and I now hold an Associate Teacher Permit in Child Development as well as a certificate as Early Childhood Practitioner through City College in S.F.
In 2008 I also started giving private lessons to teach young children the German language in a fun and playful way, as well as adult conversational German.
From 2014 – 2015 I was part of the 'Kinderhaus' preschool teacher staff.
Playfulness is a big part of my nature and teaching the youngest ones requires a fun, energetic, playful and often spontaneous style. Learning a language involves the child's entire body. So in a class we will incorporate the rhythm of the language through song, body movements, dance and play.
.