Teacher: Tanja Marshanskich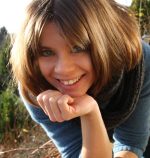 Hallo, my name is Tanja. I joined the German School of San Francisco staff in 2015, first as assistant in the Vorschule class and then as assistant in Level 1. I have been in charge of teaching teaching Level 1 since 2018.
I was born in Russia in a family of teachers. In my home town, I studied Journalism and Philology at Tomsk State University. At age twenty I moved to Hannover, Germany and enrolled in the Institute of Journalism and Communication Science. With financial support of the famous Konrad-Adenauer-Foundation I completed my PhD. During my doctorate years, I also worked as a volunteer in several nonprofit organizations for children and adults.
Three years ago, I moved from Germany to the United States, because my husband started working in the Geophysics Department at Stanford University.
We live in San Francisco with our son Janusch.