Testing at the German School of San Francisco
Updated November 2023
Claudia Windfuhr, Academic Consultant
Throughout the school year, we try to assess all of our students in levels 3 and up. We have a broad spectrum of tests available to select the ones that best fit the level of each student.
Please be advised that you need to inquire at your full-time school about specific requirements for getting some type of credit. You also need to inquire with your teacher at the GSSF which test your child might take.
Here are the detailed explanations to clarify the language levels according to the Common European Framework of Reference for Languages.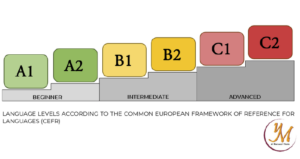 The definition of these levels is as follows. Each level adds more difficulty.
• 

A1: Can understand and form basic sentences, express basic needs, ask and answer questions about personal details. 

• 

A2: Can communicate in simple and routine situations and exchange information on familiar matters. 

• 

B1: The student can produce simple connected texts on familiar interest areas and give reasons and explanations for dreams, hopes, plans and opinions. 

• 

B2: The student can understand complex texts on abstract topics and follow discussions in their field of specialization, can express themselves fluently and spontaneously and can explain advantages and disadvantages of various options. 

• 

C1: The student can recognize implicit meaning and express themselves spontaneously; can comment on very complex subjects. 
• C2: Native speaker 
C1 is the highest level that learners of the foreign language can achieve, therefore it is the highest level on which exams can be taken.
Here is an approximate breakdown of age requirements for the German examinations offered at the German School of San Francisco. In some rare cases, students might take two examinations in one school year. The age groups are determined by the maturity and the linguistic readiness of the student:
9-10, 4th, 5th grade: A1
11-12, 6th, 7th grade: NGE level 1
12-14, 7th, 8th grade: NGE level 2
12-14, 7th, 8th grade: NGE level 3
To take the tests listed below, students are expected to speak and read in German at home every day. The age groups are determined by the maturity and the linguistic readiness of the student as well as the rules published by the German government.
12-14, 7th, 8thgrade: A2
12-14, 7th, 8thgrade: NGE level 4
14-16, 8th, 9thgrade: DSDI
15-17, 10th, 11thgrade: AP
16-18, 11th, 12thgrade: DSDII

Tests from the USA (We only prepare for the National German Examinations!)
1)The American Association of Teachers of German (AATG) is the official organization for German teachers in the USA. Every year, they offer four tests called National German Examination (NGE). All are administered on-line. Students listen to audio tracks and answer multiple-choice questions concerning listening and reading comprehension. They also cover statistics and cultural content. Our students are then given a raw score and their performance is rated on a national basis. Successful completion of the level 4 test may help students to be placed in a higher-level language class in high school. The level 2,3,4 tests are administered at the very beginning of January at the German School of San Francisco. The level 1 test is administered in the spring.
For detailed information about these tests, please click here
2) The Advanced Placement (AP) test for college credit is developed by Educational Testing Services (ETS) in Princeton. This test, about three hours long, includes listening and reading comprehension, grammar, essay writing, cultural competency, and speaking onto a tape. It is administered in early spring at an accredited high school. We strive to work together with the GISSV Mountain View campus to find seats for our students.
https://apstudent.collegeboard.org/apcourse
Tests from Germany:
3) Test A1 and Test A2. DSD I at Level A2/B1 and DSD II at Level B2/C1 (Deutsches Sprachdiplom/ German Language Examination)
The German Government/ Office of German Schools Abroad in Cologne (Bundesverwaltungsamt, Zentralstelle für das Auslandsschulwesen in Köln; BVA/ZfA) offers appropriate tests for younger learners who are studying at German schools or German language schools abroad.
The standardized German exams are based on language levels determined by the Common European Framework of Reference for Languages CEFR (Gemeinsamer europäischer Referenzrahmen, GER). There are six levels in total: A1 (beginner), A2, B1, B2, C1, C2. C2 equals native speaker proficiency.
The A1 training examination is geared towards the youngest learner group who is starting to write short texts in German. Students have to listen, read and write a text, such as a five-sentence email to a friend. They are also evaluated on their speaking performance. The training test lasts about an hour and it is graded at school.
The A2 is at a much higher level and is geared towards students 12 and up. The format is similar to the A1. This training exam is a good rehearsal for the DSD I. This training test includes a presentation about a topic that needs to cover cultural, political and/or historical content of a German-speaking country. Students usually rehearse for the entire school year and should feel quite comfortable once evaluation time in the spring comes around. This training test is also graded at school.
Below are two levels of the most advanced examinations offered: DSD I and DSD II.
https://www.auslandsschulwesen.de/Webs/ZfA/DE/Deutsch-lernen/DSD/dsd_node.html
The DSD I (A2/B1) requires a very good command of German (approximately 600 – 800 hours of instruction). It is the entrance examination for a Studienkollege (preparatory course) at a German university.
Our older and more advanced students might take this test that is similar to an AP examination, except that the DSD topics are geared towards younger audiences. Another difference is that the students have to give a short intelligent oral presentation about a topic of their choice in front of a BVA/ZfA approved representative. They will also have to answer pertinent questions quite fluently. Cultural, historical and political competency has to be demonstrated throughout the examination. The written examination section is sent to Germany and graded there. The maximum point value is 96. Students need to receive 12/24 points on each of the four parts of the exam (listening comprehension/reading comprehension/oral communication and written communication) to receive the B1 diploma. The exam is offered in the spring.
The next level up is the DSD II (B2/C1), which assumes an excellent command of German with about 800 – 1200 hours of instruction. It serves as proof that the student has attained a level of German proficiency that is required for attending a course of higher education study in Germany. This test is almost the equivalent of an Abitur Prüfung in German. It is more difficult than the AP. Students must do 2 oral presentations in front of the representatives from Germany (one prepared beforehand, one not). The students need to show mastery of the German language and culture. In addition, they need to show that they can understand and present difficult and controversial topics. An example could be  "The development of the German social system." Students must demonstrate critical thinking skills in their essay and in their oral presentations. The exam is administered in 2 parts in December and January. You must pass all parts on the C1 level to get the C1 diploma. If one part is at the B2 level, you get the B2 diploma.
DSD exam results do not expire.