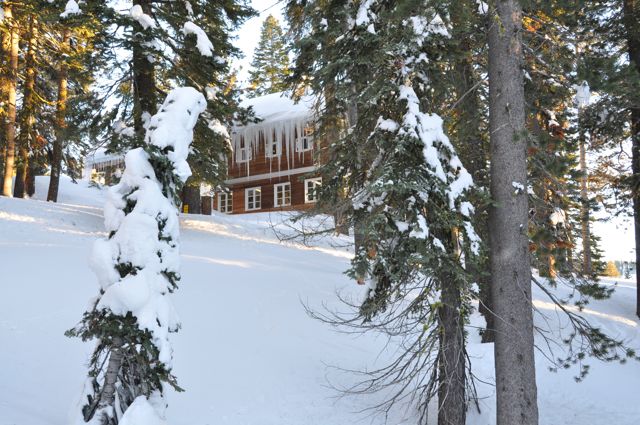 Dear members, parents, students, teachers, and friends,
I'm excited to announce our 17th annual weekend in the snow! This one will take place from Friday January 11 until Sunday January 13, 2019. As always we'll go sledding, build snow (wo)men and go for snow hikes. Here are some pictures from previous year:
https://www.facebook.com/media/set/?set=a.10152084927316166.1073741833.54424871165&type=3
http://https://www.facebook.com/media/set/?set=a.10150549147466166.396693.54424871165&type=3
http://www.germanschool.com/blog/?p=1055
www.germanschool.com/blog/?p=53
The snow weekend is not part of our curriculum, just a fun way to get together with other German School families and enjoy some winter activities. Since snow and winter games are an integral part of the German, Austrian and Swiss culture we would like to offer this trip to you as a cultural enrichment to our regular school activities.
Again we were able to secure Heidelmann Lodge on Donner Pass for our Snow Weekend. The lodge is owned by the Naturfreunde (Friends of Nature) of California who have graciously agreed to accommodate us in their lodge for the 16th time this year. This lodge is normally for members only and is closed to the public. So we consider ourselves very lucky to be able to use this facility. Many nice features reminiscent of traditional houses in Southern German, Austria and Switzerland can be found at Heidelmann Lodge. You'll almost feel like you're in the Alps!
The lodge provides accommodations youth hostel style (Jugendherberge) in two separate dorms for men and women. We'll cook our own food on the huge WW2 era oil-burning stoves in the kitchen that originally came from a military kitchen on Treasure Island. Please be prepared to help with the meal planning, shopping, cooking, and cleaning up!
Prices include 2 nights stay, breakfast/lunch Saturday and Sunday, as well as dinner on Saturday. You will need to bring your own bedding (e.g. sleeping bag) and towels.
Adults: $130.00
Children 14-17 years old: $85.00
Children 3-13 years old: $65.00
Children under 3: FREE
Please sign up by paying the full amount to Volker (check or cash) or via paypal (office@germanschool.com) no later than Saturday December 15, 2018 (Adventsfeier, last day of school before the Holidays). All children will have to be accompanied by at least one of their own parents.
CANCELLATION POLICY:
All reservations cancelled by December 31, 2018 will receive a full refund (100%). Cancellations received after December 31, 2019 will receive a refund between 50% and 100%, depending on how many people we can backfill from the waiting list. Refunds will be calculated and issued by January 31, 2019.
Hope to see you on the slopes!
Peter Buettner