Vorschule
Teacher: Simone Bloch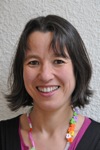 My name is Simone and I have been working for the German School of San Francisco since 2007. I have German ancestors on both sides, and my father's family was from Alsace origin, but I was born in the United States and grew up in France, where I became a certified teacher of German (CAPES). I taught for 10 years in middle schools and high schools in the suburbs of Paris.
In 2001, I moved to the Bay Area to follow my passion for performing arts, became a certified Somatic Movement Educator and discovered my love for young children.
Beside the German School I work today teaching French in diverse venues, mainly Montclair Elementary Language League in Oakland and EFBA – Education Française Bay Area-, as well as in German and French summer camps.
I am also a mother, a trained and experienced performer who has been dancing and/or acting in numerous shows.
I love supporting young children discovering and affirming themselves in a new or different language through play and the whole body, and enjoy allowing them to progressively develop a reflective perspective towards language.
TA: Angelina