Elementary Level 1
Teacher: Andrea Burnham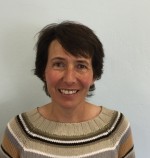 Hallo, my name is Andrea and I am the teacher for level 1. This is my 3rd year teaching at the German School of San Francisco.
I was born and raised in a small village in the southern part of the Black Forest in Germany. I have been living with my family in the United States for the past 20 years raising two sons who speak German and Swiss German as well. I have a degree in Early Childhood Education and in Early Childhood Intervention and have been working for the City of Pleasanton Gingerbread Preschool for the past 16 years teaching Preschool age children.
From 2001 until 2007 I taught at the German School of Fremont teaching all 4 children levels: ages four until fourteen. While I had the opportunity to teach, my sons attended the Saturday classes as well.
I enjoy working as a German teacher sharing my passion for the German language and culture with the children. In my free time I enjoy reading, going to Jazz concerts, traveling, bike riding, and working in my garden.
TA: Tanja Marshanskich